The Broken Series is consisted of six novels. The series has six books, from first to last, Darkness Descending, Heartless, Shattered Spells, Awakened, Until Dawn, and Whispers of Dreams. It also consists of a companion book, Evermore, which serves as a prequel to the series, featuring the foundations of the Hathaway Family. The first novel depicts a group of supernatural teenagers battling their way through the evil forces that plague their town. In Heartless, the story takes off right after the Seaside Gang graduates from Franklin High school and head off to Lavender Coast, a bustling town in Northern California, to Canberra University. There, each of our characters will face the biggest threat of their lives, each changing for the best or for the worst.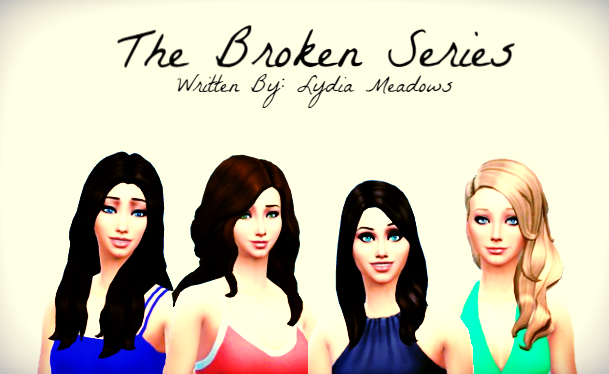 Cast of Characters
Evermore
Francis Hathaway
Isabella Hartford
Sara Hathaway
Adelaide Hathaway
Claire Hathaway
Jacobi Hathaway
Orion Petrescu
Maxwell Hathaway
Sonia Hathaway
Darkness Descending
Scott Anderson
Lydia Ross
Celesta "Cel" Moone
Sheldon Pierce
Seana Kane
Eleanor "Elle" Harris
Laura Ross
Amberly Wise
Eddie Duell
Amelia Carter
Samuel Ross
Miranda Hathaway
Jeff Moone
Isabel Florence
Maggie Crawford
Andrew Pierce
Orion Petrescu
Francis Hathaway
Hazel Moore
Aria Pierce
Adelaide Hathaway
Claire Hathaway
Heartless
Shattered Spells
Awakened
Until Dawn
Whispers of Dreams
Ad blocker interference detected!
Wikia is a free-to-use site that makes money from advertising. We have a modified experience for viewers using ad blockers

Wikia is not accessible if you've made further modifications. Remove the custom ad blocker rule(s) and the page will load as expected.